This Song's About My Baby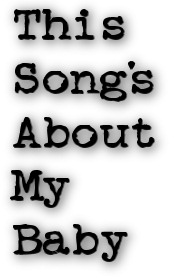 T
his song came about in response to an
informal competition
in an online songwriter's workshop.
Contestants are to submit a newly written song along with a one line description of the subject of the song.
The winner gets his song in rotation in the stereo of the family car of the guy who conceived the competition. This is primarily for the amusement of his children, who like to get one line summaries of what each song they hear is about. (Example per Dad:
"Warren Zevon, 'Roland the Headless Thompson Gunner'- This song is about a soldier who gets killed and comes back without his head.")
The title of
this
song, of course, is disingenuous.
This song
is actually about...
this
song
.
And, of course, the songwriter. The songwriter in the song. The
fictional
songwriter.


This Song's About My Baby
download
[ 2.8 mb]
192 kbps
play
[broadband]
AYoS radio
[broadband]
more stream & DL options
lyrics
This Song's About My Baby

This song's about my baby
This song's about how I feel
This song's not some fairy tale
This song's about something real
This song is about
3 minutes long
It took twice that long
to write
This song is pretty
much a waste of time
and that pretty much sums up tonight
Hell that pretty much sums up my life
I've been writing the same song
since you said good bye
and I wrote it again tonight
This song's about my baby
This song's about how I feel
This song's not some fairy tale
This song's about something real
(C)2008, TK Major