Come away with me...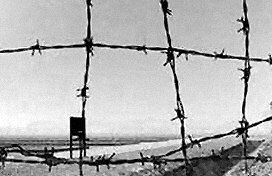 K
an Zhonggan thought of himself as an anti-Communist patriot, training to fight against the oppressive government on the Chinese mainland.
But he fell in love.
His story is told in
today's Los Angeles Times
by Times staff writer, Ching-Ching Ni:
THE happiest time of his life lasted four days.

It was the winter of 1958. He had just run away with his lover to Shanghai. They went sightseeing every day and didn't mind the dark streets or meagerly stocked stores where coupons were used to ration food. Life was just beginning.

Until two plainclothes policemen walked up behind them one day and called out his name.

"Are you Kan Zhonggan?"

Blinded by happiness and love, he said yes.

"Take a walk with us."

Around the corner, a car was waiting. The couple got in. One officer sat between them. They drove for half an hour and then his lover was told to get out. As she was dragged away, their eyes met.

They didn't see each other again for 27 years.

More...
Carrot
download
[ 3.7 mb]
192 kbps
play
[broadband]
AYoS radio
[broadband]
more stream & DL options
previous versions
Monday, November 28, 2005
lyrics
Carrot
In the course of events
I've seen my goals hanging just like a carrot in front of my nose
In the struggle for those higher attainments, hell,
I've been to the top
and I've seen the drop on the other side
And I don't care if your money's no good
I don't care if both your legs are wood
I don't care what your ma says to do
Just come away with me
It takes time to get where you want to go
and its never quite the same when you get there
but that doesn't stop me cause there's still a couple things
I'd like to try with you and you never can tell
it might work out all right
You can sit and talk about life all day
as much as you can talk your questions wont go away
it's a conversation that leads me to say
just come away with me
I've been burned before
and I'll get burned again
I guess that's the same for everyone
I know what I need
I know what I want
I know what I get --
they don't always correspond
You can sit and talk about life all day
as much as you can talk your questions wont go away
it's a conversation that leads me to say
just come away with me
(C)1974, TK Major
(C)2007, TK Major