Every show that opens must close...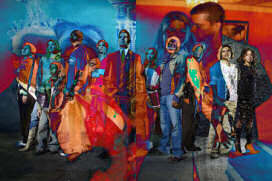 W
riting about artshow openings and trendy gallery crawlers seemed like a good idea on a stifling hot Saturday night... I guess. Anyhow, I did the easy part, recording the song below using my alternate, hot-weather recording rig (no mixing board, no tube compressors heating things up) and, you know, to me it shows, but maybe you'll like the change.
Anyhow, as I ripped off my sweat-drenched headphones and threw them aside so I could race in and turn the big turb0 fan up to its destroy-all-ear-drums setting, I thought, enough for one night.
And Sunday came and went with me just glancing guiltily a few times at the link to the bare framework of this blog post on my desktop. (ie, the picture, the links and not much else.)
And now, here it is Monday and I have work to do.
So, I'm just gonna throw this tune at you and say, here... it's Monday. Make what you will of it.
Without a Thought of You
download
[ 2.9 mb]
192 kbps
play
[broadband]
AYoS radio
[broadband]
more stream & DL options
previous versions
Monday, December 26, 2005
Tuesday, February 07, 2006
lyrics
Without a Thought of You


To think that I once
felt sorry for you
it's all that i can
bring my puny brain to do

you must think me quite naive
and don't think I ain't gonna leave
I just want you to know
what you put me through:

I won't ever have a dream
without knowning it won't come true
I won't ever think of lonely
without a thought of you

Fallin' for you
was a stretch for me
all your arty friends,
important people to bleed

as every artists knows
every show that
opens must close
you can put it in 30 pt type
in my review:

I won't ever think of lonely
without a thought of you
i won't ever have a dream
without knowning it won't come true

I won't ever think
forever
without knowing it's
really never

I won't ever think of lonely
without a thought of you

10-4-95
(C)1995, TK Major