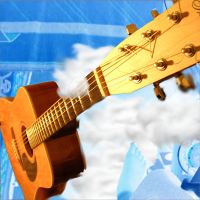 The guitar in the perhaps familiar graphic to the left is not the guitar I was writing about when I wrote that song. A photo of that guitar graced the previous AYoS version of Guitar and was the subject of that day's blog entry.
This guitar to the left is not just the AYoS logo, it's actually pretty much the AYoS guitar, providing all but a few of the guitar parts on the songs so far. (The others I've used were my $75 12 string and my $50 3/4 size guitar.) It was sitting on a stand in my living room when I shot this. I glamorized it a bit in my photoeditor. There aren't really fluffy clouds in my front room. As a rule.
The car in the second verse of this song was my first car, a Karmann Ghia that started out yellow (a great color for curtains in the breakfast nook, maybe) but got painted a cool smokey metallic grey when I plugged half a week's wages into an impossibly cheap (yet still not cheapest) paint job.
At the time I wrote this, the grey paint was still shiny — a few moments within a narrow sliver of time when I actually almost felt cool in my Ghia. (But, actually, after the paint oxidized in that first, single season, it had a kind of naturalness to it that ultimately felt pretty comfortable.) I loved that car but I put it through hell. I sold it for a few hundred bucks just at the dawn of that peculiar era when Ghias actually did gain a certain sort of geek hipster cool. I guess.
Anyhow, I did love that car. We went everywhere together.
I Can See Myself in My Guitar
I can see myself in my guitar
I can see myself in my guitar
It's getting kind of old but it's shiney
I can see myself in my guitar
I can see myself in my car
I don't care what anyone says we'll go far
I can see myself in my car
out in the country, we'll go far, we'll go far
I can see my self in everything
ain't nothing cosmic, it's just there
I can see myself in you
and you know I see you everywhere
(C)1973, TK Major