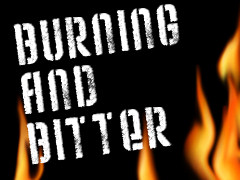 It's all in the backstory, babe.
You'd think this song was about a betrayal of Biblical proportions, a temptress so demonic, yet so enticing as to destroy any fool with the temerity to cast a glance her way.
But as I pointed out when I posted a much different (and essentially somewhat silly) version back on December 4th, the young woman I had recently broken up with when I wrote this song was a sweet and level-headed mother of two young girls who simply wanted me to decide what I wanted. When I wouldn't — or couldn't — give her an answer, she moved on.
But I was a dumb ass kid, a few years younger than her, a crummy job but big dreams of adventure. The last thing on earth I thought I wanted was responsibility.
Story of my life.
previous AYoS version (Dec 4)
Burning and Bitter
Burning and bitter
are my thoughts tonight
I can taste the poison
of the lies I heard tonight
I have seen my soul
like the falcon
you gunned down in flight
You're a sorceress
you're a temptress
but you're oh
so sweet in the night
(C)1975 TK Major