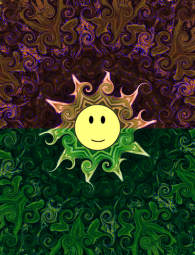 I was infatuated with the notion of starting my own religion when I was in my very early twenties.
It just seemed like something anyone who was anybody was going to be doing.
I was convinced that all a potential avatar needed was a good hook concept to wrap around some classic self-help techniques.
Obviously, I wasn't the only one thinking along those lines.
Having Fun
There's a startling new religion
sweeping through the subdivisions
Having Fun is what they call it
Soon you'll be a Fun-a-holic
Well, there isn't any priesthood
doctrine's anything that feel's good
It's the one true religion
There'll be no more revisions
Having Fun (on the job)
Having Fun (while at play)
Having Fun (all night long)
Having Fun (all through the day)
Well, we're all upon a journey
going back unto the Funhead
When we finally arrive there
we'll have all the Fun we wanted
There are some say Fun is boring
but to them I'll give this warning
Have Fun while there's time
because the Fun stops when you die
Having Fun (on the job)
Having Fun (while at play)
Having Fun (all night long)
Having Fun (all through the day)
Having Fun
Having Fun
Having Fun
(C)1980, TK Major