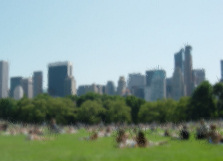 A few moments in the sun.
What are they worth?
To a banker? To a bum?
I've known a lot of bums who claimed to have been somebody, once. And, for sure, some of them were just high. But after some living, I began to see that sometimes you need a little altitude before your fall to really get going. Gravity being the way it is, you just fall faster and faster the farther you fall. (Wind resistance notwithstanding — and, hey, can't you see we're trying to be metaphorical, here?)
The guy in the song below used to be somebody once. That's who he is now. A guy who used to be somebody once. Or he thinks he was. And, really, that's what counts.
Now.
All I Need Is the Sun
looking for my place in the sun
ah but everything is almost gone
a bottle in a bag and a bun
now all I need is the sun
caviar and champagne are fun
limos and callgirls, the run
but those cocaine days are done
now all I need is the sun
kingdoms and palaces galore
yachts and planes for sure
diamonds and oilfields and mines
yet I traded them all for this wine
caviar and champagne are fun…
I've spent a thousand times what you'll ever own
I had twenty people answerin' my phone
You– you'd never get through… yet now
here I am drinkin' with you
caviar and champagne are fun
limos and callgirls the run
but those cocaine days are done
now all I need is the sun
1999-11-01
(C)1999, TK Major