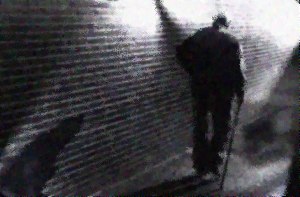 I like to get out ahead of the curve.
I wrote this (happily fictional) first person account of facing Alzheimer's not long after I turned 40. (I know. I know. Textbook stuff, huh?) Anyhow, a decade and change down the road the gaping maw of nescience doesn't look any more appealing.
Yet, only a few years ago, I became reaquainted with an elderly man who had lived down the street from me as a toddler. He was in what turned out to be the final phase of his life. He'd been diagnosed with Alzheimer's a few years before and as he explained, while he could easily remember the 50's when we lived on the same block, he also realized he wouldn't remember tomorrow — or even in a few hours — that he'd talked to me today. Still, rather than bitter, angry and afraid, as I would be afraid of being, he was sunny and cheerful.
Sadly, the end of my own grandfather's life was nowhere near as sunny. A man who had always prided himself on his intellect and his self-control was robbed, over time, of both. And the toll on my proud, strong grandmother was, in some ways, worse…

Someone Was Watching
someone was watching
I dont care what they saw
this terrible truth is a
secret all over the block
someone has fallen
someone can not get up
someone forgets what
someone was thinking of
now I don't know what's become of me
now I don't know what's become of me
toys sparkle in the sunshine
sixty-five years ago
I reach out and touch them
but it's not like I dont know
whatever was just happening
its all just like a dream
but this time I cant wake up
this time — I can't even scream
now I don't know what's become of me
now I don't know what's become of me