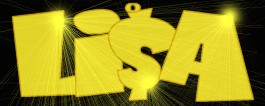 Ah… the once ubiquitous present participle title. Actually, the original title of this song was Looks Like I'll Be Losing Lisa. Then it was just plain Lisa. But the Goldilocks in me said the one was just too long and the other too short. Still, the cynical iconoclast in me is gritting his teeth and saying, geez.
Anyhow, this song is about a sap, er, a guy who just can't throw enough bling at his enamorata to make her happy and content.
A note on a couple of cultural references in the song, which was written way back in 1996 (as part of the Barista Cycle album project mentioned in a previous entry). Specifically, the lines: 'Got a second job just to buy nice things for Lisa / Laptop, cell phone, wetbar in her car — all for Lisa.'
Obviously laptops and cellphones are now commonplace.
So, if you're old enough, roll your mind back to the previous century, to a naive, much simpler time… a time of long, lazy summer days, and evenings by the radio in the parlor with the family, listening to The Green Hornet and The Great Gildersleeves and sipping lemonade from the family lemon tree…
Hmm… that was 1996, wasn't it? It's all so hazy, now. (See yesterday's song.)
AYoS acoustic version:

full version (Mp3, 128k)

Losing Lisa
Lately it looks like I'll be losing Lisa
Danged if there's a thing I can do to keep her
It scares me what I used to do to please her
'Cause now I know there's just no pleasing Lisa
Now I know — there's no pleasing Lisa
Now I know — there's no pleasing Lisa
Gave all my records and my stereo to Lisa
gave up my band and dropped out of school — all for Lisa
Tattoed her name in a secret place — it said "Property of Lisa"
What a waste of time 'cause nothing ever pleases Lisa
Now I know — there's no pleasing Lisa
Now I know — there's no pleasing Lisa
Got a second job just to buy nice things for Lisa
Laptop, cell phone, wetbar in her car — all for Lisa
But she's not impressed, she's not happy yet — that's just Lisa
'Cause nothing in the world will ever please that girl — that's our Lisa
Now I know — there's no pleasing Lisa
Now I know — there's no pleasing Lisa
(C)1996, TK Major