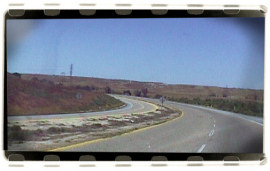 In memory of Buck Owens.
As I wrote when I posted an earlier version of BFD 2 Fresno, it's oh-so-loosely based on a couple weeks I spent in the summer after my first year of college, camping in the Sequoias.
previous AYoS version (Oct 19)
The friends I went up with missed the action in the city and went home early. I stayed in the nearly deserted camp by myself. After a few days I got a little bored and decided to hitch up to Yosemite, which would require going down the mountain to the highway and traveling north a ways, and then back up the mountain. I got a ride part way down to the central valley and ended up stranded for about four hours on the poorly traveled highway.
Some hippies in a van stopped going up the mountain and made me take a can of soda. The sun went behind the steep canyon walls and shadows began creeping forward. The only traffic seemed to be going up — and there wasn't much of it. Maybe a car every 5 or 10 minutes.
I made a strategic decision to go take the first car going either direction and ended up back in Sequoia at the main campground. I hurried to the camp store, catching it only a few minutes before its early evening closing.
There were a few people in the tiny store, 4 pretty college age girls came in and I ended up in line. I overheard one of them say something about Yosemite.
As much out of desperation as anything, I said, "Excuse me, I couldn't help but overhear. I wouldn't normally ask — but I just spent 4 hours stuck halfway down the mountain, trying to get to Yosemite. If I could catch a ride with you guys, I'd be happy to chip in on the gasoline."
To my amazement, they said yes. They were, indeed, all college girls, from Palo Alto. I ended up traveling with them for another week or so, going from the crowded Yosemite valley up to a nearly deserted campground in Tuolumne Meadows.
The girls showered me with attention the first couple of days. I flirted shamelessly with all of them, trying to decide, which one?
But the thing about four very attractive girls in a VW van — even in a nearly deserted high mountain campground — guys come out of nowhere.
And they did, almost literally. Word spread among the backpackers and to other remote camps and trailheads. Hippies who'd been living in the mountains for months began filtering down from the backpacking trails. People who hadn't camped in an official campground since they were kids as a point of honor were making camp around us.
I remember one particularly wild looking hippy with a mane of curly hair and dark, angry eyes filling his canteen at the spring driven spigot in the middle of camp. "I can't believe I'm getting water out of a faucet. I'm used to getting my water right out of the creek. This is just too weird."
When we got to camp, there was only one other party in the campground, a couple in a pup tent. But within 3 days of our arrival, there were 13 men, including myself, staying in camp, in the vicinity of the girl's VW and large centerpole tent. It was like a little village.
Needless, perhaps, to say, I missed my chance not just with my first choice, but with all the girls, the Fates, I'm sure giving me a dope slap for my cocky sureness at the beginning of my adventure with the girls.
Eventually, I caught a ride down into the valley and then to Fresno.
But when I got to the northern edge of Fresno, my luck changed. I walked backwards through Fresno, finally catching a ride in the late afternoon at the southern edge of town with a fellow driving a semi tractor with no trailer.
He explained he was finishing working 13 days straight, 18 hour days and was, he said, "crashing" — coming off whites, amphetamine. He said he didn't want to take any more because he wanted to get some sleep when he finally got home.
But he almost didn't get home. Going through the grapevine (the mountain pass road between Bakersfield and LA, famous for its nasty weather and heavy winds) he began dozing at the wheel. I yelled over the noise of the engine as the tractor veered across lanes. Trucks going the other direction honked and flashed their headlamps.
As we veered across four lanes I grabbed the wheel, screaming above the noise. He came awake and took control of the wheel.
We repeated that a few times, risking our own lives and many on the freeway below us before I finally convinced him to pull over and get something to eat and a cup of coffee. Once he had a little food in him — and a Pepsi, since he was still insistent that he needed to get some sleep and a coffee would keep him awake — we were able to get down the mountain without any further incidents and he dropped me off at the house of some friends in Woodland Hills, in the San Fernando Valley.
Now, that might sound romantic in some perverse way, but then there were the rides with drunk hot rodders or trolling weirdos ("Feel my muscle, just go ahead and feel how weak I am… somebody could just take my money form me, I'm so weak. No, really, feel my muscle!" — I had that guy let me out on the side of the freeway, screw waiting to get to an offramp.)
This is one topic where I don't have any hesitation at all in saying: Yes, I did hitch, and that's why I'm saying this to you: Just don't do it.
Really.
previous AYoS version (Oct 19)
BFD 2 Fresno
I know you wonder
how I'll ever get along
What will the lost boy do
now the smart girl's gone?
I haven't seen the world
but there's one that I know
You were just a short short ride
on a long long road…
First time I saw you
didn't know what to do
I tried to catch your eye
but you just came barreling through
all the boys scattered
and the sparks began to fly
I just stood there
you fillin' up my mind
I know you wonder how I'll ever get along…
Don't know why you chose me
Guess I thought that it was just fate
The door swung open
I threw my old life away
my hometown in your rearview
my feet on your daddy's dashboard
Didn't take long til I saw
just what I was for
I know you wonder how I'll ever get along…
From Bakersfield back to to Fresno
and everywhere in between
Everything was wrong
and it was all because of me
At the bottom of the hill I said
"here will l be fine"
Last time I saw you
you was just another grape on the vine
I know you wonder
how I'll ever get along
What will the lost boy do
now the smart girl's gone?
I haven't seen the world
but there's one that I know
You were just a short short ride
on a long long road…
(C)1997, TK Major