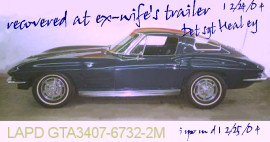 Ah, love.
Sorry-backsided, wrong-headed, stupid love.
Maybe you've never loved that way. Maybe you have. Me, unlike the guy in this song, I've never had a girlfriend (or in his case, wife) steal all my belongings. (One GF kept taking my razors. I pretended not to know. People are funny.)
The song itself was written as part of my 1996 project, The Barista Cycle.
My younger friends should note that a Stingray was the iconic 60's

model of the Corvette sports car as well as a 'banana-seated' Schwinn bicycle, a short profile, chopper-barred bike that held a hegemonic grip on America's youth in that far-off decade. I sort of wanted to capture the sense of a couple of kids fighting over a Stingray, one of them tugging on the handlebars, the other pulling hard on the 'chicken bar' on the back of the long seat.
Sherry
Sherry, you stole my stereo
my dog Bill, my car and my Mac
You can keep the rest of it
but I'm here to tell you
I'm gonna get that Corvette back
Give me back my Stingray
and I'll let your sister go
She followed me from Austin
but she'll go home
if I'm the one that tells her so…
All the way through high school
I was the one who was supposed to break your heart
then we settle down
and you get bored and
you tear our world apart
Give me back my Stingray…
I thought that we were happy
that just goes to show you what I know
I thought I changed all the locks
but I missed that one, you and your tweaker friend
took everything I owned
Give me back my Stingray
and I'll let your sister go
She followed me from Austin
but she'll go home
if I'm the one that tells her so…
(C)1996, TK Major