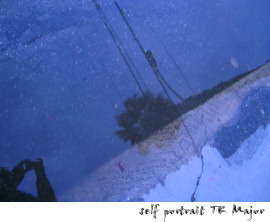 You wouldn't know it to look at me, now, but I used to run with the art damage crowd.
I wasn't doing my grocery shopping around gallery opening calendars, like some of my friends whose periodic white wine, cheese and cracker binges showed up like tree rings as striations on unpainted fingernails — but I did my share of gallery crawls and loft parties, nonetheless.
My friends had by and large decided that they were hip and anything they did was, therefore, glamorous — and they were great guides through the urban cultural jungle, pulling me aside to whisper about this artist or that critic lurking in some alcove or doorway or backgrounding me on the current scandals and gossip.
Of course, ultimately, there is the art. But the great thing about a mediocre opening or a show filled with pretentious, metooist claptrap was that it left more time for serious — sometimes vengefully serious — drinking. Show me bad art, will you? Your cheap chablis will feel my wrath, gallery swine!
[And let me here apologize to all you gallery owners I helped run out of business back in the '80s and early '90s. Yes. You were right, I was a deadbeat. I never bought a damn thing.]
If you hang out on that scene long enough, sooner or later you'll see a few earnest, hardworking artists who somehow got swept up in the action. You'd think they'd know better.
One supposes it's usually the allure of cute or sexy or dramatic girls or young men, timelessly in black, who stare into the artist's eyes and tell them they're, you know, deep. No matter how deep you actually are, that stuff can turn you around for a minute or two.
Without a Thought of You
To think that I once
felt sorry for you
it's all that i can
bring my puny brain to do
you must think me quite naive
and don't think I ain't gonna leave
I just want you to know
what you put me through:
I won't ever have a dream
without knowning it won't come true
I won't ever think of lonely
without a thought of you
Fallin' for you
was a stretch for me
all your arty friends,
important people to bleed
as every artists knows
every show that
opens must close
you can put it in 30 pt type
in my review:
I won't ever think of lonely
without a thought of you
i won't ever have a dream
without knowning it won't come true
I won't ever think
forever
without knowing it's
really never
I won't ever think of lonely
without a thought of you
10-4-95
(C)1995, TK Major
[A note on the photo at the top of this post: Stumped for an image for this song, with about half the post written, I decided to take my tiny digital cam out for a walk. This image came straight out of the camera, with no mods except resizing to fit this space. I'd actually been trying to shoot clouds in the puddle, was settling for palm trees, and didn't realize my own reflection had snuck into a corner of the snap.]