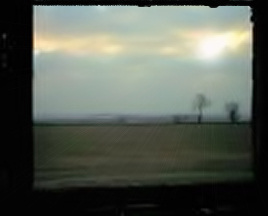 There's a doomed beauty in knowing you're about to make what you'll probably look back on as the mistake of your life. Everything seems more real, more vivid, more 3D.
You look around as though it's the last time you're ever going to see familiar surroundings… and in a way, you're right. Nothing will ever be the same, again.
And you know you have to do it, anyway.
I wrote this song as a kind of bluegrass thing but I turned it on its head, here, into a kind of swamp folk rock indulgence that I think exposes some other facets of the song, highlighting the youthful passion and lust for life and love. Which is not, actually, what I was thinking when I came up with the music for this version.
Instead, I'd been so annoyed with an attempt to do this song the previous night in a sensitive, finger-picked style that I decided, really, to just invert the style and approach. (The George Castanza Strategy. If everything you do turns out wrong, do the opposite.)
Internet Archive page for this recording
previous AYoS version
I Just Started to Cry
We ran through the summer night
it was hot and it was black
we ran until we were all alone
and didn't even know the way back
We were young
we were in love
that summer we were one
when I look back I start to cry
to think of what is gone
A storm came up from the south real fast
and lightning lit the rain
I looked in her eyes for a moment
and then it was dark again
Our hands entwined and then our tongues
we were soaking wet
we made our way to the old Hansen barn
and there our souls met
I woke up the next morning
and she slept by my side
the sunlight poured through the hayloft door
and I just started to cry
I cried cause she looked so pretty lying there
I cried because I loved her so
I cried cause I knew she was the only one
and I cried cause I knew I was gonna go
(C) 1991 TK MAJOR