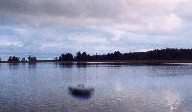 It's been a long time since I've fallen in love drifting around in a rowboat.
But it's a nice memory. Even if it seems more like a dream, now. Sometimes it seems like someone else's dream.
It wasn't, however, in someone else's dream. It was at a tiny park in the foothills just east of Orange, California — undoubtedly now surrounded by condo complexes if it survives at all — then, surrounded by empty rolling hills and stands of oak.
I fell in love… but she didn't. Still, it seemed like such a good idea, I took a string of girls there, trying to recapture that lost moment. Other girls may have fallen in love with me… but I never got that moment back.
The song — or at least its inspiration — also owes more than a little to a number of works by Brian Eno, most notably "By This River."
EMILY
On a lake
the faded yellow row boat
drifts in lazy circles
while I fall in love with you
Emily Emily
watch the sky go around
Emily Emily
watch the sky
Willows weep
tears melt in cool water
your white cotton dress
you warm brown legs
your deep green eyes
Emily
Emily Emily
watch the sky go around
Emily Emily
watch the sky

(C)1982, TK Major