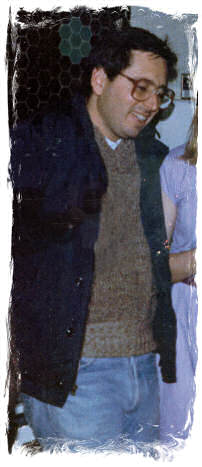 How did I live so long?
Ah, well, the one thing we can be sure of is that it once and for all disproves any positive correlation between virtue and longevity. Not that I'm that old. But I'm definitely well past the good die young age band. More in survivor territory, I'd say.
Anyhow, gettin' old. It's hell, yadda yadda.
They talk about wasting youth on the young — but, really, I don't think I could take what I went through when I was young, now.
Or put myself, through, more than anything. But it had to be gone through, apparently: driven by a highly personal vision of my dharma, I plunged on.
At any rate, nowadays I have philosophy on my side — and plenty glad I do. Getting old is hell…
I Was Just a Kid
previous versions
Saturday, December 09, 2006
lyrics
I Was Just a Kid
I was just a kid who'd
memorized some lines
I never dreamed
I would hurt you
you said we couldn't run
from the pain that would come
now you wear that pain
and it suits you
we picked up our places
in the game that went before
the path lay in lies
to be burned through
if I could run back home
I would lay me back down
and suckle at the breast of virtue

(C) 1972, 2007, TK Major