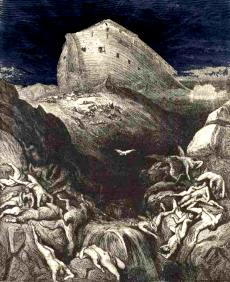 For a long time now, I've had a couple of extended works in mind. One of them I've mentioned before: the Codename Baby opera. (I just made that name up, just now. Whaddya think? No, I didn't think so, either. Still airballin'.) That work, of course, as envisioned, will cannibalize a bunch of my songs featuring the Baby character, drawing a tragic arc through those existing sets of lyrics. (I mean, it's opera, right? You ever hear of a happy opera? Right.)
Anyhow, while I didn't have it specifically in mind when I wrote this grim jeremiad, another project bouncing from the back burner to the warming tray and back again has been a novel or other work built around a powerful mega-preacher. I've toyed with it as the story of a crisis of faith, a murder mystery, a love story, an end-of-times thriller, a Faustian spinoff… I try to be flexible.
After I wrote this song, I realized it fit the fuzzy extended concept of that project, which eventually became known as the Flood project.
Approach it within whatever context your own mind cares to wrap around it — including that of a plain ol' mad-as-hell rant against mankind, which, of course, at core, it is. (I get paid by the comma. You knew that, right?)


Time for Another Flood
People think heaven is behind the sky
People thinking crazy things and not thinking why
They think the answer's going to fall from above
I think the answer is another flood
It's time, time for another flood
It's time, baby, time for another flood
People live in wickedness and dwell in greed
They'll murder their brother to get more than they need
They even rape the Mother and swim in her blood
I call on the Father for another flood
It's time, time for another flood
It's time, baby, time for another flood
All of this truth has all been a lie
Our immortal souls have already died
The time for salvation has come and gone
and all that's coming now is another flood
It's time, time for another flood
It's time, baby, time for another flood
(C)1991, TK Major